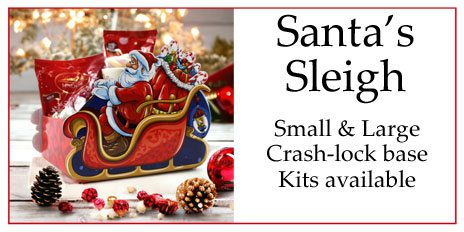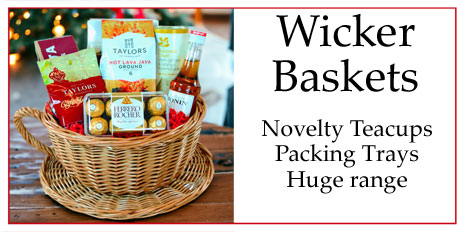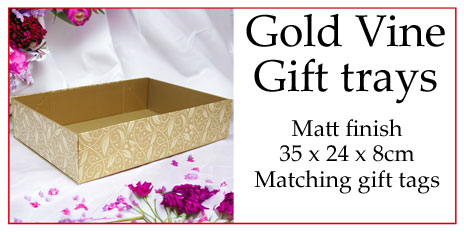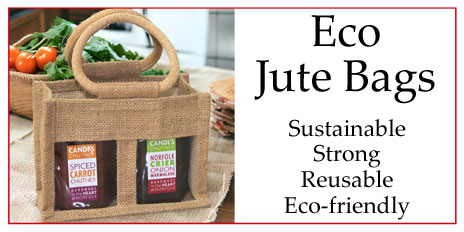 Testimonials
15/06/18 - Michele, Antrim
My basket arrived yesterday via Royal Mail and I love it. Thanks for the quick service.

12/05/18 - Claire, Oldham
I just wanted to say Thank you so much. My first order with you, but I'll be a returning customer from now on. Perfect for what I needed and excellent quality too. Thank you for a job well done.

26/02/18 - Leoni, FB

Great page, best prices I have seen so far today.

06/10/17 - Clare, Leicester
Must say when I first ordered with Candi gifts I thought for the price the products properly wouldn't be brilliant, but how wrong I was, I'd never got any where else now for any hamper baskets/supplies. Everything even the cardboard products are amazing quality.

10/08/17 - Tilly, Southampton
I would just like to say thank you so much for sending my order out so fast! It came next day delivery will definitely be ordering again.

29/06/17 - Kelly, Buckinghamshire
We've just had our third delivery from you, and just wanted to say thank you for such a prompt and easy ordering and delivery service!! Fantastic company to deal with :)

20/02/17 - Janice, Lincolnshire
We are very impressed with the speed and professionalism you have shown us.

19/02/17 - Pam, Merseyside
Brilliant service, thank you.

29/11/16 - Lucia, Spain
I just want to let you know that the hampers just arrived and everyone here is incredibly happy with them. They looked nice on the website but now that we had the chance to take a look at them here in person we can say that they are just gorgeous! Thank you very much.

17/11/16 - Amy, Derby
My last order was fantastic and my customers are loving the boxes I make up using your products. I find your products and shipping great quality and value for money. Many thanks.

16/11/16 - Julie, West Glamorgan
Order has arrived & this is just to say how pleased I am with everything. The quality of the jute bags is excellent. Thank you too for your prompt service.

15/11/16 - Michelle, East Sussex
I just wanted to say thank you very much for the excellent service and fantastic quality goods that arrived extremely promptly this morning.

07/09/16 - Mel, Warwickshire
Fantastic service. I ordered a hamper which arrived the following morning. Just as described and perfect for what I need it for. Thank you.


09/06/16 - Amanda, Oxfordshire
Just a quick message to say what a great service you are providing, fast, efficient and reliable, keep up the good work.

13/05/16 - Tina, Warwickshire
I just wanted to send a huge thank you to all at Candi Gifts for your amazing service and products.
I ordered a basket (which I couldn't get anywhere else), plus some bits and pieces to go with it. I then realised I'd ordered the wrong colour basket and emailed you asking to switch it. You replied straight away and the items arrived today, three days after my order.
I am delighted with everything, as the basket and the other incidentals are of the highest quality. However I am more impressed with your service and attention to detail. It isn't often you get such prompt replies from a query and you acknowledged everything I'd asked of you.
Your firm is certainly outstanding and I will be recommending you to everyone I know.
Thank you so much.

23/02/16 - Justine, Cheshire
Wow what fantastic service you have provided to me, only placed my order yesterday and it's arrived this morning. Excellent service.

24/11/15 - Sandra, Norwich

I just want to thank you for such prompt and considerate service. I needed the items urgently and you responded very quickly to my request. They arrived speedily and everything was of excellent quality. As they were also good value for money I am really pleased overall. I would definitely recommend Candi Gifts to others.

23/11/15 - Maggie, Manchester

The baskets are looking fantastic so thank you very much for turning the order around so quickly for us.

23/11/15 - Shelley, Bradford

Thank you very much for your efficient service :)

17/11/15 - Viv, Manchester

I received my order today and am delighted with the quality of the baskets. Thank you for your prompt and efficient service.

29/10/15 - Josie, Nottinghamshire

Thank you for my order, it has arrived today and everything is brilliant.

22/10/15 - Kate, Isle of Wight

Super customer service!

20/10/15 - Fiona, Essex

I just wanted to send you a thank you for the great service you have provided. I was waiting for some of my items to be in stock - your email to advise they had come in was a good reminder to order. The service you have provided has been great - quick delivery and items are of a good quality. I will definitely use your company again

16/10/15 - Lisa, West Yorkshire

I just wanted to say that I have received my order and that your products are lovely and I am very happy with them.

16/09/15 - Allan, Gwynedd

I find that I need to express my gratitude and admiration for your company. Rarely these days do you find a company that believes in efficiency and customer satisfaction, so very well done. I may not be your biggest customer but I will certainly prove to be a loyal one. Everything about you is first rate, from customer support to quality products to delivery and tracking information. So thank you and congratulations on your efficiency.

20/08/15 - Barbara, Lincolnshire

Order received today lunchtime!!!!!! Absolutely amazed- delighted with the item -brilliant service!!!!!! Thank you.

17/08/15 - Carol, Wiltshire

Excellent service. Baskets arrived this morning and they are really good. Thank you.

14/08/15 - Judith, Manchester

We have ordered from you before and always found the service really good and the products of excellent quality.

04/08/15 - Jennifer, Lancashire

I just had to say what swift efficient service you give and good value items!

09/07/15 - Lucie, Czech Republic

The parcel had just arrived OK. I want to thank you for your kind, professional and quick approach. Good luck and I may order some more :)

26/06/15 - Miss Lambert

Just wanted to take the time to say how impressed and happy with the service I receive from you every time I shop. Not only do you have low price great quality stock but also low costs for delivery and dispatch times are extremely fast! You are by far my number one wholesaler for my hamper business. Thank you so much.

20/06/15 - Ms Marratt

Just a small note to say what a great service you are providing, this is my 2nd purchase and wont be my last - thank you ever so much, keep up the great work!!

21/05/15 - Mr Davey

Good Afternoon

I am writing to compliment you on your speedy delivery of the below order. I was surprised to have it delivered today, thank you very much I will definitely be using your company again.

Regards

25/04/15 - Suzanne

Dear Candi Gifts Team

Thank you for such a prompt and efficient service. The item I ordered was perfect and of great quality and I was very impressed with your great customer service. I look forward to ordering from you again soon.

With all best wishes

02/04/15 - Ms Owen

Thank you for sorting out the change of address for me. You are excellent at customer care and despite this being a very small order I feel a very valued customer.

Kindest regards :-)

13/03/15 - Mrs Henderson

Order receive exactly on time. Excellent service, thank you.

11/03/15 - Miss Zahara

Hi

I received my parcel today. I'm so happy with the service it was quick and very cheap. Just wanted to say thank you and will definitely be ordering again.

10/02/15 - Mrs Coxhill

Dear Sirs,

Thank you so much for the prompt delivery of my basket, which arrived this morning. I am very pleased with it. I will be using it to fill with small gifts for my first Grand Child.

Kind regards

01/02/15 - Carol, Truro

I have just received my hamper ordered last Thur pm. I was told it would arrive in two working days and it has. I was a random customer requiring only one hamper, your service is amazing. I spoke to two women and they were so good, nothing too much trouble. I am blown away by your service. A huge thank you and please pass on my gratitude to your staff in particular the two women I spoke to. I am sure they will probably remember as the purchase was for my small horse drawn carriage. It will look amazing with your hamper on the back. Can't wait to fit it and some weather to go off and picnic.

Regards, Carol

13/01/15 - Mrs Anderson

I have to say I am so impressed with the quality of the items delivered. They are even better than they looked on the website. The whole ordering experience and delivery has been faultless. Well done Dave the driver who put my items in the Green House. I've posted photos on Facebook to show how wonderful the baskets are. Well done Candi Gifts. I will most certainly use your online store again and I think a lot of my friends and family will too.