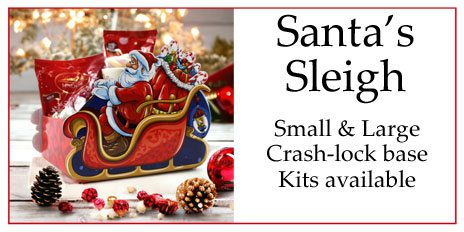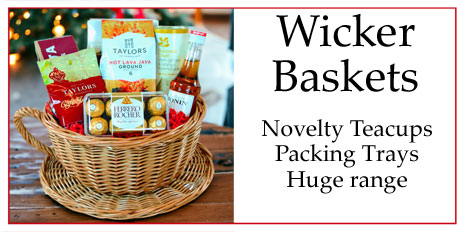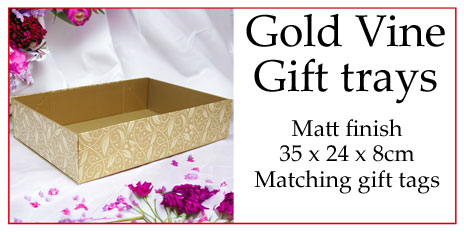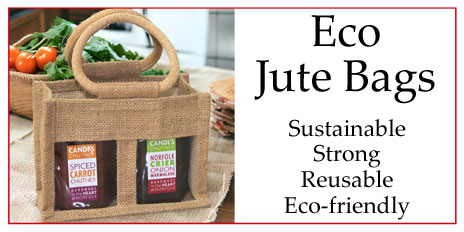 Making Gift Baskets
There are lots of benefits and rewards from making gift baskets and hampers. We all love to give or receive something we feel is indulgent and deserved. It gives us the most immense pleasure and satisfaction and an instant fantastic 'feel-good' feeling. Who doesn't like to be appreciated and acknowledged?
Gift basket makers come in all shapes and sizes. Hamper businesses up and down the country make personalised gifts for direct retail sales, corporate gifts, hospitality, promotion presentations to name just a few. On a large scale fulfillment companies can pick and pack your baskets and send them directly to the recipients. Many hamper makers build their business from scratch, making baskets for family and friends from home before transitioning into a commercial enterprise.
So, what sort of hampers do people buy or gift?
The most popular, by far, are food hampers! Probably not a surprise as we all love to be treated with some tasty goodies.
Lidded hampers, shopping baskets and open trays are ideal for these and can be made for a variety of budgets. Some will have high-end wines, meats, biscuits and condiments, other will be filled totally with chocolate treats. They can be themed by country such as an Italian gift filled with pasta, parmisan, olives and crackers or a Scottish one with whiskey, salmon and shortbread. Or the theme might be a product, like a trio of wine or a selection of chilli sauces. Each of these can be adapted to different occasions throughout the year with seasonal enhancements for Christmas, birthdays and celebrations.
If you make your own food products, then this is a fabulous way to showcase what you have. Often, it's our artisan crafters that stand out above the rest, so if you are a maker - great, if you aren't, then take a look at some of the fantastic products you can buy from smaller producers. Many will have awards from respected and recognised organisations, making them highly desirable.
There are also a huge, diverse selection of businesses that use hampers for gifting clients. Many like to thank clients with a substantial, personalised present to show their gratitude. Others may leave welcome gifts such as essential supplies in holiday homes, or a kitchen fitter may like to leave a 'thank you' of speciality teas and coffees for their customers when they finish.
All of these can be easily tailored to the individual client with personalised printed ribbon, company colours or a company gift tag.
Another popular market is babies!
So many people love to congratulate the new parents whether it be family, friends or work colleagues. From 'just-found-out', Mum-to-be, Baby Shower or New Mum & Baby There are several occasions through out a pregnancy when a gift basket may be given, and gratefully received. This is a wonderful opportunity to make a really useful gift. Fill with pamper creams and treats for mum who will enjoy those relaxing moments, or create a totally baby-orientated gift basket with bibs, baby-grows, teddies and toys. Use open trays with baby themes in pink, blue or neutral colours or if you prefer, you can fill themed boxes that can be finished with a bow and balloon to add that special message. A great way to pack these is in a white wicker basket, lined with soft cotton that can be used in the nursery and be a keepsake too.
We don't forget our pets either...
I heard that 70% of pet owners buy their fur baby a Christmas present. That is not really a surprise in the UK! So, why not make some hampers filled with pet treats, toys and food - and maybe even a pet bed! Dogs and cats will be the most sought after and the selection of items to put in is immense. If it's a much smaller pet such as a hamster, then a cage, bedding and food, wrapped with a big bow and tag.
For the puppies and kittens going to a new home, all the essentials including food, a bowl, collar and lead and even flea powders or worming tablets can be included, along with their favourite chocolate drops. To carry the pet theme through, we have a lovely collection of paw-print boxes and trays, bags and tags for you to really add character to your end product.
So, just a quick rundown on various basket ideas:
Food - themed by country (Italian pasta hamper or Scottish whiskey hamper)
Food - themed by type (selection of wines or chilli or cheese)
Food - variety across a high-end range (the more exclusive items you never buy for yourself)
Food - collection of same item (M&M's, Reece's)
Food - essential supplies (for a holiday home or welcome pack for a home rental or home purchase)
Food - tradesmen gifts (speciality coffee hamper from a kitchen fitter or a bathroom pamper hamper from a bathroom fitter)
Food - corporate gifting (staff appreciation, client appreciation, target rewards)
Baby - mum-to-be (treats and relaxation, include slippers, facemask and spa day voucher)
Baby - baby shower (treats for mum and clothes/nappies for new born)
Baby - new mum and baby (more treats for mum and dad and now you can add personalised gifts/teddy for baby)
Pets - new puppy or kitten (essential going home pack)
Pets - Christmas gifts (goodies, toys, bed, coat and bones)
Pets - Smaller indoor pets (cage, food, water bottle)
Pets - kennels, catteries and vets can stock/ advertise or use
What about the packaging? What should I use?
We are often asked how to make gift baskets and what are the best products. There are heaps of choices to suit different budgets, styles, themes and occasions. If wicker is the way you'd like to go then lidded wicker hampers are always popular, especially at Christmas. They provide a solid, secure vessel to hold your items, yet at the same time provide an eco-friendly, traditional way to present your gifts. Shallow trays are ideal if you offer fruit or wine and would prefer not to stack them and want to display everything. Both ways are easy to box up for the courier and make shipping simple and cost effective. Smaller baskets are perfect for toiletries, thank you teacher gifts, candles etc., but can still be made 'big' with enhancements and wraps. Perceived value is very important, so the finishing touches are important.
Shopping baskets are wonderful as they have a multitude of after-uses but have a huge capacity for food or baby baskets (or anything else!).
We have a range of white wicker baskets in various sizes with either a blue gingham, pink gingham or cream lining which are really suited to baby gifts. Great for using in the nursery afterwards and can be added to if more baskets are required.
We have also created a wide range of printed cardboard packaging with a selection of designs to suit different occasions. Some are plain (black/white), some are neutral (wooden crate/wicker), and others include paw prints, pink flowers, reindeers, stars, tartan, hearts, little boy, little girl and spots.
Included in this are shallow trays in 4 sizes, gable boxes in 3 sizes, triangles, pop-up boxes, easy-fold trays and magnetic closure boxes.
For each of the basket and trays we supply, we have created a complete gift basket kit which contain a cellophane bag, shred, bow and gift tag. They are available in 4 size and 6 colours and there will be one to fit any of them. If you don't need the kits, all the individual components are available individually and the correct size is indicated next to each basket or tray.
If you need to secure items laying flat there are 3 options - our made-to-measure clear acetate boxes, shrink wrap bag and cellophane rolls.
It doesn't stop there.
Aside from baskets and trays we also supply everything else you need to make your gift baskets and hampers. coloured crinkled paper shred, candy bags, mini bows, giant bows & mega bows, cellophane bags, cellophane rolls, photo frames, teddies, jute bags, seagrass baskets, bath bombs, organza bags, wooden utensils and tissue paper.
Recently we've introduced a few more items which will help you ship your baskets out. Take a look at our packing supplies department for the latest additions of paper bubble wrap, clean newsprint offcuts and packing tape.
So now's the time to get creative! Making gift baskets and hampers can be very lucrative whether you are working as a sole trader from home or producing baskets on a much larger scale. For businesses wanting to make a whole bunch in one go for a specific event such as a staff thank-you, it can be an economical way to create the gift yourselves and ask a colleague with flair to make them up.
Hopefully you will find something helpful in the above. If there is anything you'd like to ask or a specific product you need more information on, don't hesitate to get in touch. We are here to help and happy to do so.
salesdesk@candigifts.co.uk